UMA Corporate
We are experts in Diversity, Equality and Inclusion. We specialize in gender, race, workplace culture, decency and belonging.

We are a bespoke Strategic Advisory & Consultancy, with curated offerings in corporate training, Umaships, career coaching & mentorship and speaking engagements.

We serve clients from around the world and have worked with multiple industries such as Finance, Law, Education, Technology, Policy, Media & TV, PR & Marketing.
"Inspire Your Teams. Retain Your Best. Increase Your Bottom Line."
Every partnership starts with a data-driven approach to your workplace strategy.
Our team will work with you to understand the unique challenges your business faces in attracting, retaining, and developing your diverse talent. We take a "fly-on-the-wall" approach to truly embed ourselves in your organization. Our experience allows you to accelerate your time to action and to create a roadmap of tested interventions that will deliver a measurable impact.
People, culture and decency are what make any change stick.
We will engage with your employees, management, and teams to build a truly diverse and inclusive work environment where confidence, success and leadership can thrive. We will share best practices to get you there faster.
Diverse talent have diverse needs.
Our experience allows us to help you shape a role so that it delivers on your objectives, while remaining suitable for experienced talent returning to the workforce. Ongoing support for both manager and employee are core to our offerings to ensure continued success.
Coming back with ambition.
In order to realise the full benefit of a diverse workforce, your people need to grow and develop. We have personal experience climbing the corporate ladder, and guided other female and minority leaders in doing so as well. Let us help you build the next generation of leaders at your company through early career,  re-entry, executive coaching and mentoring.
Hear from those who have been there. 
Our founder is a recognised speaker at global events on the topics of diversity, inclusion, retention, confidence and empowerment strategies and best practices. Bring your next forum or event to life with stories and examples that will connect with your audience and set the direction for your organization.
At UMA, we use a 5 step process (Discover, Define, Engage, Follow up, Inform) to engage with our clients.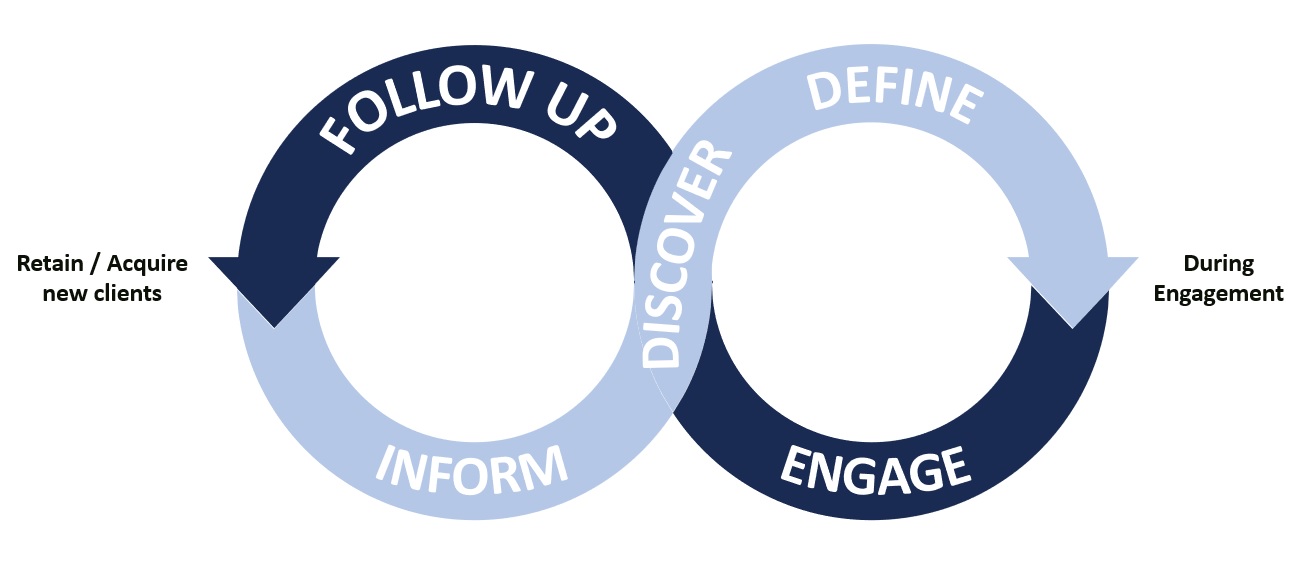 Matt Doran
Uma introduced some highly qualified candidates to us. They helped us through the entire coordination, selection and onboarding process, and provided continual guidance to our management to help structure the perfect role to re-assimilate our chosen candidate. We are very happy with the services provided by Uma, and would recommend them to anyone! Saba Ahmad
Uma helped structure a role that provided soft re-entry into the workplace. It has really helped the diversity and inclusion of our workforce and we look forward to working with Uma again in the future Vidula Pant
Thank you for the wonderful sessions over the course of these few months! Our clients (and us) are so grateful for your time. It was immensely helpful to have your valuable insights as our clients begin their journeys back into successful careers.
Doran Jones Inc. is a Digital and IT Consulting & Services firm specializing in Risk & Regulatory Compliance.
The firm was looking for an individual from a diverse background to spearhead talent acquisition as well as have a strong technical background, so turned to Uma.
At the same time, Vaishnavi Venugopal, a former software engineer on Wall Street, was reevaluating her future career goals and her work/life balance. We structured a 6 month Umaship where we coached and prepared Vaishnavi, as well as trained the firm's management on ensuring a smooth transition.
The company and candidate are flourishing, with the successful creation of an opportunity that matched the lifestyle goals of a diverse candidate, resulting in a win for the firm and the candidate they hired.
Private school in Hertfordshire, London serving a diverse community of pupils, ages 11 to 18 years.
A London based private school served a diverse population with communities from around the world. They needed guidance on ensuring their curriculum, staff interactions and policies were fully inclusive and equitable in order to serve their diverse pupil body.
We worked with the school leadership, board, teachers and parents, to strategize a DEI roadmap, structured the formation of a DEI Taskforce, and provided communications, inclusivity, cultural awareness training to select faculty and PA members.
The school community, pupils, and faculty all reported a stark rise in morale, confidence and overall motivation, with a greater understanding and respect for their various cultures.
Turning Rock Partners is a private equity investment firm and credit fund.
The partners of a New York City based hedge fund needed to hire an employee from a financial background to run the gamut of daily responsibilities, and they turned to Uma.
At the same time, Rima Roy, a business analyst in consumer finance, was reevaluating her future career goals and her work/life balance.
Following a curated Umaship program, with career coaching & mentoring, we successfully created a diverse & inclusive environment where the client is happy and the candidate is thriving.