SPEAKING ENGAGEMENTS​
Uma's Founder, Rita Kakati-Shah, is an award-winning, internationally recognized author, and speaker at global events. She has opined on diversity, inclusion and empowerment strategies as well as company best practices. Topics have included: diversity and inclusion; gender and racial equality; gender investing; women's empowerment; confidence, negotiation and leadership of women and minorities; successful communications; sexual harassment and discrimination in the workplace; career progression for women in the workforce and return to the workforce after a career transition. Audiences span international corporations, academic institutions and global policy forums, as well as military veterans and survivors of domestic violence. Rita has co-authored books on women in business and diversity and inclusion. Visit her author page here.
BOOK OUR FOUNDER, RITA KAKATI-SHAH TO SPEAK AT YOUR EVENT
If you are looking for a speaker to make an impact, bring international experience and resonate with every audience member in the room, contact us today and explore having our Founder at your event. Simply fill out your details and one of our experts will get back to you.
For book readings, signings or to order copies of Rita's books, please also complete the Details of Event / Speaking Role / Comments section.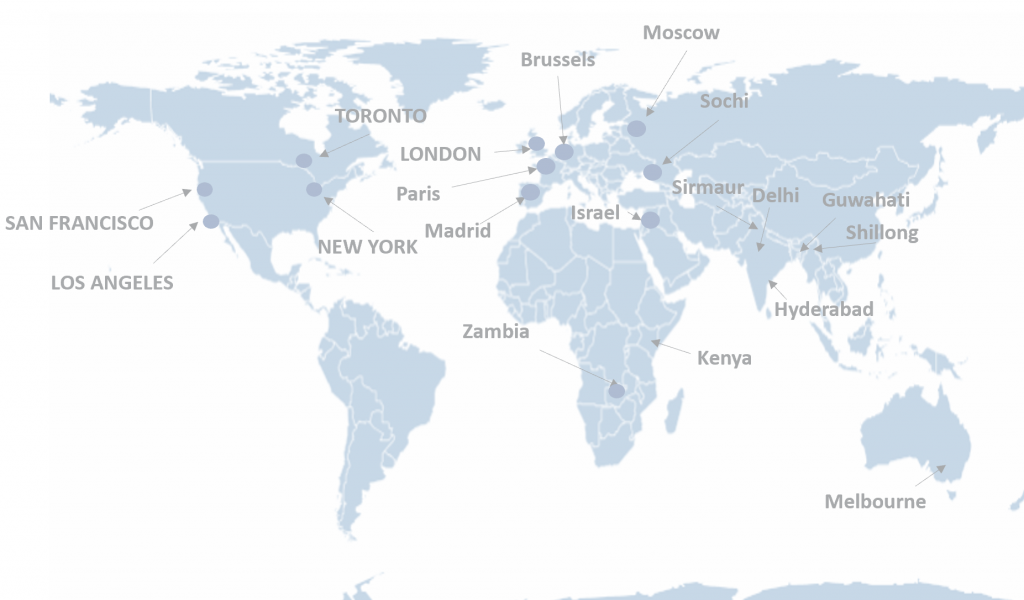 Senior Manager, Capital Group
Last night's talk was one of the best I've attended, seriously! The tangible takeaways of how to empower women in the workplace were unique and seemed to resonate with SO many of us. Really, this was top notch! The WOW Series Team
Thank you so much for your talk! We were all so empowered after hearing your advice on pushing through moments of doubt. Your point on remembering past successes and believing in yourself will stick with anyone who is making efforts to achieve their dreams! Thank you again! Viewer of Ticker News
Just watched this... you are amazing.... your energy, your vibe, your positivity and your passion in what you say and do is so empowering. Your eloquence and delivery is perfect... Katherine Free, Early Career Coaching client
Hi Rita, I just wanted to thank you again for all your time mentoring and coaching me! You've given me so many new ideas and perspectives on how to pursue my international business and marketing goals. Thank you again so much! Kabir Sagoo
Rita's Socratic style was refreshing and invigorating. She asked engaging questions and challenged our audience of professionals to critically think about their assumptions on the topic - all with courtesy, grace, and finesse. Rita vigorously exceeded our expectations because the audience realized the world does not need more stronger women, we need to do our part to make more women stronger. Jennifer Russell
The team and I were thrilled to secure Rita as guest speaker for two of our alumni events this year in San Francisco and New York. Her wealth of experience, knowledge, and success within the sector, combined with her vision to create positive change within society is truly inspiring. She is a consummate professional and delivered her talks clearly, articulately, and with great passion. We had lots of positive feedback from many happy guests! Cristina Cuomo
Thank you so very much for giving the keynote address at our wellness lunch in the Hamptons. You've built an amazing company and Uma is truly empowering women to be their best. In fact, after your talk, so many of our women asked how to hear more! Your talk was amazing!! So eloquent and inspiring!!! Prof. Minna Logemann, Baruch College
Thank you for such an amazing, energizing class! I was thrilled to have you, and you saw the students were engaged in your important topics as well. Hope to have you back for an encore soon! Today's timing was perfect for Women's History Month! Marcia Larson, Head of Partnerships, Knopman Marks Financial Training
The epitome of self-assurance and poise, Kakati-Shah presents confidence-boosting strategies in her live masterclasses and coaching seminars to help anyone create unshakable self-confidence to meet any challenge head-on. Headmaster, all girls' school
Thank you so much for your help! The student you have been working with just received an offer from Trinity College, Cambridge, and she mounts her success and confidence during her interview and preparation down to your work together! Thank you so much again for your help uplifting our year 6 girls and all our students!